This is a Sponsored post written by me on behalf of ZzzQuil for SocialSpark. All opinions are 100% mine.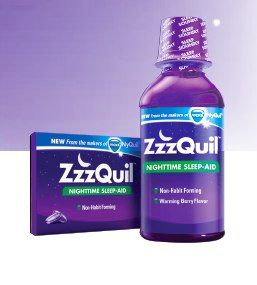 Sometimes I have trouble sleeping. Whether it's caused by perimenopause, stress, excitement…whatever…it can be annoying. Because the next day I'm dragging! That's why I was excited to be given some ZzzQuil to try!
One of the great side effects of Vicks NyQuil is that it helps you sleep. But what about the times you don't have cold symptoms or pain but still want the help sleeping? That's where ZzzQuil comes in handy!
Just like the cold medicine that inspired it, ZzzQuil is a warming liquid that's easy to take. It has a nice flavor (Warming Berry!), but without the extra stuff you don't need if you only need help sleeping. It doesn't knock you out and make you sleep instantly. For me, it was a gradual sleepiness. It was more relaxing than anything else.
It was so nice to slowly fall asleep and wake the next day feeling rested and refreshed. There was no grogginess or "hung-over" feeling that I've had with other sleep remedies. It was perfect–I didn't need any recovery time!
The active ingredient in ZzzQuil is diphenhydramine HCL, which lulls you to sleep. ZzzQuil comes in a Warming Berry-flavored Liquid and LiquiCaps. Two convenient ways to get the relief you need!
ZzzQuil is meant for adults and children ages 12 and up. Please follow all instructions and read all the accompanying literature before using! ZzzQuil is safe and effective when all instructions are followed. And it's non-habit forming.
Follow ZzzQuil on Facebook! Tweet about your experience with ZzzQuil using the #ZzzQuilNight hastag.
Go ahead, give it a try! And let me know how it works for you!